Temporary ground protection mat 1800x1200x12 mm 45T
SKU:
GEORS125
Unit:
pc
Qty:
In Stock
Delivery time:
2 nädalat
Price:
67,00 €
price inc. tax
80,40 €
Ground protection mats can be successfully used for temporary access roads, parking lots or problematic places that require surface hardening. The assembly does not require preparation of the foundation, the plates can be placed directly on the levelled ground.
Special fasteners are required for installation - the plates are equipped with 10 dedicated holes.
The mats are double-sided, which makes them very functional.
Designed for light traffic (up to 3.5 tons) the permissible speed for road traffic is 10 km / h
The mats are easy to clean

Dimensions 180x120x12,5 cm
Weight: 27 kg
Material: 100% recycled polyethylene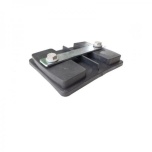 Temporary ground protection mat connector
Special connectors are necessary to connect mats to each other. The material from which the mats are made shrinks at low temperatures and expand at high temperatures. The use of fasteners allows the boards to expand freely thanks to the expansion space preserved in the structure.
The assembly of the connectors is very easy and fast. It is enough to place it in the holes of the road plates and screw in two screws.
SKU:
GEORSL125 ,
Qty:
In Stock
,
Delivery time:
2 nädalat
7,70 €