Cone 750 cm rubber base
SKU:
FC75
Unit:
pc
Qty:
In Stock
Price:
20,00 €
price inc. tax
24,00 €
Base: 400x400mm
Height 750mm
Orange with white reflective film
Weight 5 kg

150 pcs on the base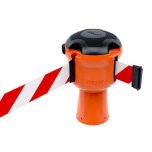 Skipper's restraint system makes it easy to make your work environment safer and more secure. The tape can be used to quickly separate zones, set up a safe sidewalk or make traffic safer. The tape with the automatic rewind system is 9 m long, which makes it one of the most cost-effective fencing systems! The boundary tape fits on the Skipper post, on the safety cone as well as on the wall.
Body: orange
Ribbon: red-white
Tape length: 9 meters
Tape width: 48 mm
Overall dimensions: height 240 mm Ø145 mm
Weight: 0.8 kg
SKU:
SKIPPER01-ORW ,
Qty:
In Stock
74,00 €