Accesories
By default, prices are displayed without VAT. To see VAT prices, change your selection here ↑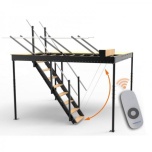 DATA:
Compatible with the following floor sizes: L, M, S
You can lift and hide your stairs to the height of the mezzanine in complete safety. Thus, the useful surface on the mezzanine quickly, accordingly and in style.
It is controlled by a remote control that allows you to raise, lower and stop the stairs at any time. The system stops when the ascent and descent is complete, increasing ease of use. The stairs go up and down in about 30 seconds.
The system is completely safe. The motor is blocked in any position without electricity, making it impossible for the stairs to fall.
This electric stair lift kit is available for the following stair models if it is located in the mezzanine, also using the internal stair beam:
Side vibrations
Straight trembling
Intermittent stairs
This can be done by adding additional stairs or adding wall mounts (find out more)
SKU:
A060 ,
Qty:
Out of Stock
,
Delivery time:
2-3 nädalat