Radar Speed Display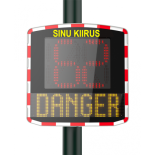 By default, prices are displayed without VAT. To see VAT prices, change your selection here ↑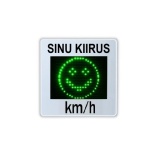 • Numbrimärgi kõrgus 34cm
• Kahekohaline numbrinäit, LED värv: kollane, punane, roheline
• Andmete edastamine USB, Bluetooth või GPRS abil, Andriod või Windows
• Vilkuv displei, piktogrammide ja sümbolite kuvamine
• IP65
• Mõõdud 700x700x150mm
• Komplektis kinnituskomplekt postile ja konverter
SKU:
34216913180 ,
Qty:
In Stock
,
Delivery time:
2-3 nädalat
1650,00 €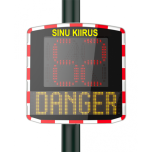 • Numbrimärgi kõrgus 34cm
• Komplektis puhveraku ja 220v toiteblokk
• Kolmekohaline numbrinäit, LED värv: kollane, punane, roheline
• Statistika kogumine mõlemas sõidusuunas
• Andmete edastamine USB, Bluetooth või GPRS abil, Andriod või Windows
• Vilkuv displei, piktogrammide ja sümbolite kuvamine
• Kellaajast sõltuv eelseadistus
• IP65
• Mõõdud 700x700x150mm
• Komplektis kinnituskomplekt postile
SKU:
34216913088 ,
Qty:
Out of Stock
Indicator CAM is a mobile tool for speed enforcement on factory premises, supplied with 12V battery.
Exceeding the speed limit will trigger the recording of an image sequence.
The storage images contain the time and speed information.
These records can be retrieved over the factory network or directly by e-mail.
Indicator CAM offers several interfaces (USB, Bluetooth, Wi-Fi, LAN, HSDPA, GPRS/GSM/GPS) to download or transfer the collected data.
The control panel allows the user to change parameter settings on-site.
LED Color: Amber
Character Height 300 mm
Power Supply 12 Vdc
Software App Android included
SKU:
ICAM ,
Qty:
Out of Stock