Corner Protection Guards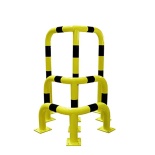 By default, prices are displayed without VAT. To see VAT prices, change your selection here ↑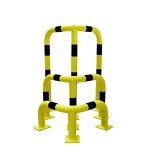 Steel guard effectively prevents collision damage, secures inventory and work areas.
Ideal for protection of door gates, building corners, machines, columns, shelves, etc.
Standard valik:
– steel tube Ø76 mm
– base plate thickness 8 mm
– height: 300, 600, 1000 mm
– side lengths: 500x500 mm
– yellow powder-coated layer with black reflective stripes
– for indoor use
– for outdoor use we recommend the galvanised variation, please contact us for more information.
SKU:
TKL.765050 ,
Delivery time:
2-3 nädalat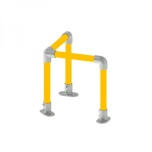 Height: 500mm
Width: 500mm
Depth: 500mm
Tube diameter: 48.3mm, wall thickness: 3.2mm
Powder coated yellow RAL1003
SKU:
TKL.NKL.48505050 ,
Qty:
Out of Stock
160,00 €