Safety fences and machine guards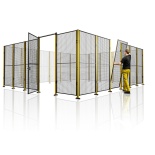 By default, prices are displayed without VAT. To see VAT prices, change your selection here ↑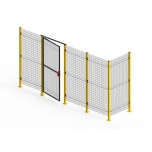 AdaptaGuard frameless modular guarding system perfectly combines practicality and robustness and is an ideal solution where there is a high risk of mechanical impact.
The frameless 4 mm steel wire panel is strengthened by transversal folds and it is connected to 50 x 50 mm uprights by strong retaining fasteners. The high thickness heavy baseplate stabilizes the post during assembly.
Panels:
Mesh: 32 x 68 x 4 mm
Bases: 196, 292, 676, 772, 996, 1188, 1476, 1988 mm
Heights: 2080, 2490 mm
Posts: 50 x 50 x 1,5 mm
Baseplate: welded, 120 x 120 x 8 mm, with 4 anchoring points
Heights: 2240, 2650 mm
SKU:
ADAPTA ,
Qty:
Out of Stock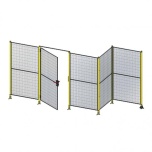 Protection and accident prevention system consisting of 40x40 uprights and 20x20 panels with 20x20 frames, connected by screws or SATECH patented fast assembly clamps. It is the standard method used in all guards for plant and machinery.
Panels:
Panels Frame: 20 x 20
Mesh: 22 x 100 x 3
Painting: Epoxy polyester powder (indoor use)
Bases: 200, 300, 700, 800, 1000, 1200, 1500
Heights: 960, 1260, 1500, 1900
Posts:
Posts: 40 x 40 x 2
Baseplate: Forged with 3/4 anchor points
Painting: Epoxy polyester powder (indoor use)
Posts with screws (adjustables):
1120, 1420, 1660, 2060, 2640
Posts with fast assembly clamps (adjustables):
1120, 1420, 1660, 2060, 2640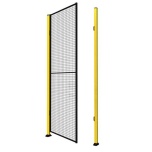 Single hing door set for X-GUARD series
- can be set to open both left and right
- complete with support posts and panel
- a lock with a handle is available as an accessory (sold separately)
- mesh size: 50x30 mm
Certificates: EN ISO 13857, EN ISO 14120
Warranty: 3 years
Height range: 1400, 2000, 2300 mm
Width range: 900, 1500 mm
SKU:
XGD ,
Qty:
Out of Stock
,
Delivery time:
3-4 nädalat
0,00 €