Mobile traffic light with 3-digit count down display, 2pcs
SKU:
21698
Unit:
set
Qty:
Out of Stock
Delivery time:
3 nädalat
Price:
3200,00 €
price inc. tax
3840,00 €
Mobile traffic light with 3-digit count down display, 2pcs

- operation: alternating one way traffic, rotating traffic or crossroads. 2, 3 or 4 lights.
- protection of light sources and control electronics: IP 56.
- vehicule detection radar or traffic control radar. Remote control. Radi control.
- the telescopic pole extends from 1.55 m to 2.20 m.
- autonomy – consumption: 1 month with the 12V 100A/h battery or 2 months with the 12V 200 A/h battery.
- the battery box has a wheelbarrow shape with a lid made ​​of ABS plastic.
- weight: 85 Kg (excluding batteries) for the set of 2 lights.
- The traffic lights set includes two masts, two battery
boxes and remote programming unit. Each mast consists
of three LEDs optical Ø 210/80 of high brightness and
low power consumption (one red and two yellow)

- The cycle, programming and control information are
displayed on a backlit LCD screen.
Programming is done via an infrared link with a
synchronizing unit (remote control).

- The waiting time is indicated in minutes and seconds
on a LED display readable at 40 meters.
This information reassures users and reduces
unexpecting crossings.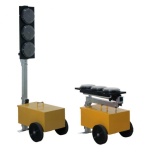 - 120x Ø200mm LEDs
- Voltage 12V
- The height can be adjusted from 177 to 232 cm
- The weight of the traffic light is 32 kg
- Operating temperature -20 °C - +70 °C
Batteries are not included
SKU:
L4744C ,
Qty:
Out of Stock
1600,00 €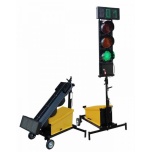 - Ø200mm LED
- voltage 12V
- mast height adjustable
- working temperature -20 °C - +70 °C
- twilight sensor: day 100% / night 30%
- trolley 24x52x24-33 cm
Batteries are not included
SKU:
34216913206 ,
Qty:
Out of Stock
1600,00 €