Mountville
By default, prices are displayed without VAT. To see VAT prices, change your selection here ↑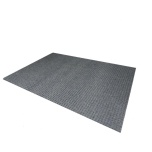 • Bi-level surface effectively removes moisture and dirt from lift truck wheels to improve lift truck safety.
• Modular mats are easy to install and scalable for the application.
• Aggressive adhesive taping system keeps tiles from moving.
• Polypropylene carpet is easy to clean and fast drying.
• Durable rubber backing and polypropylene carpet top withstand lift truck traffic up to 6000 kg.
• Recommended for all buildings where lift trucks must enter and exit a building to and from the outside.
Size: 115 X 170 cm
Backing: SBR Rubber
Surface: Solution Dyed Polypropylene carpet
Thickness: 6,3mm
Weight: 5 kg/m²
Cleaning method: Vacuum/hot water
Fire retardancy: Passes test EN13501-1 (2007)+ A1 (2009)
SKU:
34216913093 ,
Qty:
Out of Stock
,
Delivery time:
1-2 nädalat
249,00 €