Pekuma
By default, prices are displayed without VAT. To see VAT prices, change your selection here ↑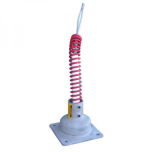 When a vehicle collides with a road sign post, which is equipped with a spring, the road sign restores its upright position.
Suitable for traffic poles up to 1.6m long and Ø60mm in diameter
Tested: 70 km/h
Recommended areas of use: parking lots, separation islands, tramways, ring roads, etc.
SKU:
34216913105 ,
Qty:
In Stock
205,00 €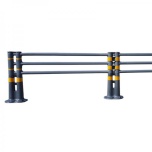 FlexiRail flexible barriers are suitable for installation in places where pedestrians and cyclists tend to cross the road in the wrong place or where there is a high risk of accidentally stepping on the road. With the help of FlexiRail barriers, it is easier for road users to orient in traffic and thus prevent dangerous situations.
Module dimensions: 1800x240xH880mm
SKU:
34216913118 ,
Qty:
Out of Stock