Barcode staff (5m) for EL-32
SKU:
TS-5
Unit:
pc
Qty:
Out of Stock
Delivery time:
1-2 nädalat
Price:
67,20 €
price inc. tax
80,64 €
Digital level EL-32 (5m) barcode bar
Durable, with a strong construction and good resistance to damage and wear.

Designed for use with the Nivel System EL-32 digital level.
The bar code scale ensures easy and accurate reading of measurement values.
Made of light aluminum alloy, with section joint protection. Integrated circular bubble and carrying case.
The 5-meter working length also allows for use in places with high develation (excavations, trenches, etc.).

Easy to carry - folded length 1.5 m.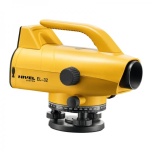 Technical specifications:
-32x magnification
-Electronic measurement ± 1.0mm / km
-Visual measurement ± 1.0 mm / km
-Accuracy of distance measurement - D ≤ 10m <± 10mm
-Accuracy of distance measurement - 10m <± 0.1% D
-Accuracy of distance measurement - D> 50m <± 0.2% D
-Measurement time <3 seconds
-Compensator type magnetic
-Compensator operating range and accuracy ± 15 '/ 0.3 "/ min
-Power Li-ion, 2200mAh, ca. 20h
-Internal data storage of 1000 records
-Data storage interface micro-USB
-Resistance class IP55
-Operating temperature range -20 ° C to + 50 ° C
-Dimensions 240 x 130 x 205 mm
-Weight 1.9 kg
Electronic tracks The EL-32 is a high-end device that provides fast and accurate automatic and classic measurement even in very difficult operating conditions. Dimensions are read automatically and the device provides information on altitude differences and distances. The measurement results are displayed on a large, readable, backlit LCD screen. The device allows you to save measurements and export them to a computer.
Included:
electronic level
PC software
USB cable
plumb bob
manual
case
SKU:
EL-32 ,
Qty:
Out of Stock
,
Delivery time:
1-2 nädalat
576,45 €