Bollard GRD Ø150 H500
SKU:
GRD1200
Unit:
tk
Delivery time:
2-3 nädalat
Price:
448,50 €
price inc. tax
538,20 €
Protection bollard for loads of heavy traffic. Octagonal external design to resist impacts from every direction. The internal structure is totally new: sturdy metal plate covered with 4 internal shock absorbers designed to guarantee high shock absorption. Fixing accessories included.

Material: REFLEX
Colour: yellow RAL 1018, black RAL 9005
Impact resistance: 9365J
Dimensions: Ø200 H1200mm

Files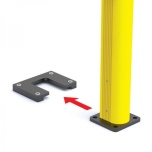 Taldmik, mis võimaldab MPM turvaposte ja piirdeid kinnitada nii, et saab vajadusel neid eemaldada.
SKU:
DPP ,
Qty:
Out of Stock
,
Delivery time:
2-3 nädalat
63,00 €