Cable locator, rent
SKU:
34216913163
Unit:
day
Price:
25,00 €
price inc. tax
30,00 €
Cable finder or locator of communication routes for identification of underground line facilities.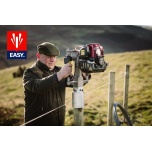 The petrol-powered hand pile rig is an innovative and very handy tool for installing poles in the ground. The pile driving force of 26 joules and 1720 beats per minute ramms metal piles or wooden posts with a diameter of Ø 10mm - 100mm into the ground. Suitable for installing home garden posts, animal fences, traffic sign posts, tent poles.
Very low vibration (only 9 m / s² in 100 mm diameter wooden post frames) due to separate handles and vibration damping impact mechanism. Ergonomic padded handles and low center of gravity make handling comfortable.
Fuel consumption 0.71 L/h (with 7,000 rpm)
By ramming the fence posts into the soil, you also save time on the concrete mix intended for securing the fence posts at the expense of both digging and backfilling.
60,00 €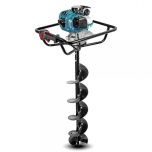 With a soil drill, you can easily dig holes for fence posts and piles.
2.6 hp 52cc petrol engine
Selection of drill bits:
Ø76, 90, 110, 160, 200 mm
25,00 €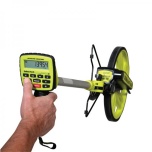 Measuring wheel that measures lengths, widths, heights and calculates areas, volumes and perimeters!
Measuring range: 0 .... 9,999,999 meters
Measurement accuracy: 99.5%
Dimensions: length is 103 cm and if packed together 55 cm
Measuring wheel: diameter 32 cm, circumference 1 m
Maximum measuring speed: 19 km/h
Number display: 7-seater (9,999,999)
Weight: 1.9 kg
Power supply: 9V battery
Operating temperature in between: -10°C and 40°C
10,00 €