CL2B Blue-cross laser, bluetooth
SKU:
CL2B
Unit:
pc
Qty:
Out of Stock
Delivery time:
1-2 nädalat
Price:
334,00 €
price inc. tax
400,80 €
Rotating laser level NL500 is easy and quick to use and very efficient. Excellent price-quality ratio

Specification:
– Light Source: red laser (635nm), class 2
– Accuracy: ± 1,0 mm/10 m
– Range of operation: 500 m (diameter, with a laser sensor)
– Self-leveling range: ± 5°
– Power: DC 8,4V (1000mA), Li-ion 7,4V (4000mAh)
– Working time: approximately 50 hours
– Resistance class: IP54
– Operating temperature range: -20°C to +50°C
– Dimensions: 206 x 206 x 211 mm
Weight 3,0 kg
Video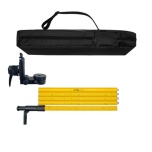 Nivel system LP36 expansion pole for cross lasers and distance meter:
Expansion pole with a maximum length of 3.6 m after set up, designed to work with devices with tripod thred (1/4 " screw) (Cross, Axial lasers, distance metersfinders).
Solid aluminum construction, 5 sections make it easy to adjust to each room height.
Metric scale – easy fit to the requirements of the project at the time of measurement.
Easy to transport – after folding down to a carrying bag.
SKU:
LP36 ,
Qty:
Out of Stock
,
Delivery time:
1-2 nädalat
67,20 €
Laos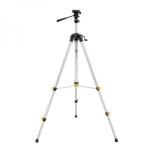 - Aluminium tripod (lightweight) for construction lasers
- with boom (1,8m)
- material: aluminium
- min./max height:0,62/1,82m
- type of lock: clamps
- type of head: screw
- weight: 1,6kg
SKU:
SJJ-M1 EX ,
Qty:
In Stock
,
Delivery time:
2-3 nädalat
51,50 €