CL3R Red multi-cross laser (3x360°), bluetooth
SKU:
CL3R
Unit:
pc
Qty:
Out of Stock
Delivery time:
1-2 nädalat
Price:
256,20 €
price inc. tax
307,44 €
Cross line laser CL3R with red beam. The use is simple, fast and very effective. Excellent value for money.

– laser type: red, 638nm, class II
– working radius: 30m (70m with laser receiver)
– accuracy: ±3.0°
– laser beam projection: 3x360
– power supply: Li-ion 3.7 V (4000 mAh)
– dust and moisture protection: IP54
– operating temperature: -10°C to +50°C
– bluetooth

Size: 130 x 90 x 133 mm
Weight: 0.89 kg

Warranty 12 months

In the set:
– Laser cross liner
– Floor target (2 pcs.)
– Laser target
– Multi adapter
– Laser glasses
– Li-ion rechargeable battery
– Carrying case
– USB "C" type charger
– Laser lift
– Manual
Video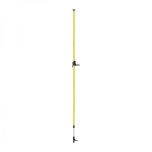 Nivel system LP36 expansion pole for cross lasers and distance meter:
Expansion pole with a maximum length of 3.6 m after set up, designed to work with devices with tripod thred (1/4 " screw) (Cross, Axial lasers, distance metersfinders).
Solid aluminum construction, 5 sections make it easy to adjust to each room height.
Metric scale – easy fit to the requirements of the project at the time of measurement.
Easy to transport – after folding down to a carrying bag.
SKU:
LP36 ,
Qty:
Out of Stock
,
Delivery time:
1-2 nädalat
67,20 €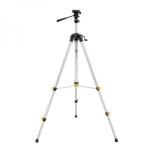 - Aluminium tripod (lightweight) for construction lasers
- with boom (1,8m)
- material: aluminium
- min./max height:0,62/1,82m
- type of lock: clamps
- type of head: screw
- weight: 1,6kg
SKU:
SJJ-M1 EX ,
Qty:
In Stock
,
Delivery time:
2-3 nädalat
51,50 €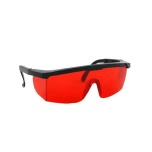 Glasses for red beam lasers.
SKU:
GL-R ,
Qty:
In Stock
,
Delivery time:
1-2 nädalat
15,00 €