Classic smoking shelter 156 x 250 x 268 cm
SKU:
529370
Unit:
pc
Qty:
Out of Stock
Delivery time:
6-8 nädalat
Price:
3445,00 €
price inc. tax
4134,00 €
Suitsupaviljoni mõõdud:
- height: 268 cm
- lenght: 250 cm
- depth: 156 cm
- roof: 6 mm fire and impact-resistant translucent cellular polycarbonate with UV protection
- toughened safety glass cladding (8mm thick) with security signage and fixed with aluminium clamps for easy replacement in the event of vandalism. "Smoking zone" signs supplied.
- 80 x 80 mm steel square posts on base plates.
- galvanised steel, painted in our RAL colours. Assembly and installation instructions supplied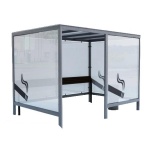 Smoking shelter with 8 mm cellular polycarbonate body or 5 mm class.
The structure can be painted in a selected colour from the RAL palette.
Installation: for screwing or setting in concrete
- height: 215cm
- width: 280cm
- depth: 190cm
SKU:
1044 ,
Delivery time:
4-6 nädalat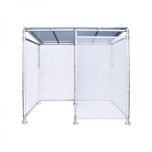 Length: 2459 mm
Depth: 1861 mm
Structure: Ø 50 mm anodised aluminium tubing mounted on base plates with aluminium clamps secured with stainless-steel bolts
Roof and panelling: Anti-UV-treated cellular polycarbonate panels. 10 mm thick
SKU:
529380 ,
Qty:
Out of Stock
2105,00 €