Cushion Ease Solid welding mat
SKU:
661-BL
Unit:
m
Qty:
Out of Stock
Delivery time:
2 nädalat
Price:
256,05 €
price inc. tax
307,26 €
The sturdy 91cm x 91cm rubber sheet can be easily assembled to cover large areas or individual workstations, wall-to-wall or as islands. The ergonomic benefit comes from a 19mm work platform with a closed slip stone structure surface that is thick enough for durable comfort in a dry industrial environment. Compatible with the patented MD Ramp System™ for smart, safe ramping solutions; allow external and internal corners. Slip resistance rating R9 according to DIN 51130.

width: 91cm
thickness 19 mm
length 91cm
ESD, Bfl-S1 fire resistance and oil proof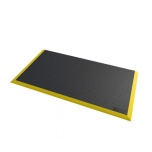 Strong oil-resistant and fire-resistant diamond plate workplace welding mat. The strong 100% nitrile rubber compound is extremely durable and even withstands welding spatter. Standard size mats for individual workstations are loose and do not require installation. The 18.4mm thick platform elevates and isolates the worker from hard ground, while the dotted domes underneath allow the mat to bend and flex with every movement. There are highly visible black or yellow safety ramps on all sides to prevent tripping.
width: 97, 102 cm
thickness 18.4 mm
length 1.63 meetrit
fire resistance class Bfl-s1 (highest possible classification)
SKU:
646-BY ,
Qty:
Out of Stock
,
Delivery time:
2 nädalat
From 370,20 €