Flexible Road Sign 686 SG0 RA2
SKU:
ALM686SG0K
Unit:
set
Qty:
Out of Stock
Price:
39,50 €
price inc. tax
47,40 €
Flexible traffic sign "686" in traffic zone 50km/h
- 2-sided red-yellow RA2 reflective foil 800x200 mm
- panel 1000x250mm
- PVC
- base 15 kg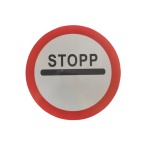 "Stop line sign" indicates the place of stopping the vehicle in the event of a traffic light prohibiting light or a regulator prohibiting signal.
Size: Ø195mm
Choice of RA1 and Ra2 light class stickers (RA2 is a sticker with 3x better reflectivity than RA1. When making a choice, we recommend considering how far you want this sign to be visible).
Suitable for sticking on a plastic sign.
SKU:
34216913319 ,
Qty:
In Stock
From 6,00 €