Green laser crossliner, 15m (50m with sensor), 2 laser beam,
SKU:
CL1G
Unit:
set
Qty:
Out of Stock
Delivery time:
1-2 nädalat
Price:
145,00 €
price inc. tax
174,00 €
Cross laser Nivel System CL1 is designed for determining the horizontal and vertical plane, and both at the same time in the form of a cross with arms intersecting at 90° angles. Equipment, thanks to very distinct reference lines can be used for indoor and outdoor applications. Pulse function allows to use the laser sensor and to work with an instrument at greater distances, also on the outside. CL1 set includes special laser adapter - used to set up height and direction of generated laser.

Laser: green beam 532 nm, class II
Accuracy: ±1mm/5m
Wide width: <2,5mm/5m
Angle of generated laser: 90°±60"
Self-levelling range: ±3°
Operating range: 15m (50m with a sensor)
Waterproof rating: IP54
Operating temperature range: -15°C do+45°C
Power supply: 4,5 V (3 x AA)
Mount: 1/4", 5/8"
Dimensions: 105 x 55 x 104 [mm]
Weight: 0.419kg
Files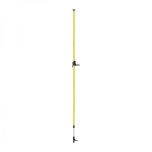 Nivel system LP36 expansion pole for cross lasers and distance meter:
Expansion pole with a maximum length of 3.6 m after set up, designed to work with devices with tripod thred (1/4 " screw) (Cross, Axial lasers, distance metersfinders).
Solid aluminum construction, 5 sections make it easy to adjust to each room height.
Metric scale – easy fit to the requirements of the project at the time of measurement.
Easy to transport – after folding down to a carrying bag.
SKU:
LP36 ,
Qty:
Out of Stock
,
Delivery time:
1-2 nädalat
59,00 €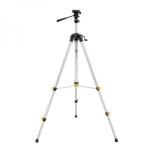 - Aluminium tripod (lightweight) for construction lasers
- with boom (1,8m)
- material: aluminium
- min./max height:0,62/1,82m
- type of lock: clamps
- type of head: screw
- weight: 1,6kg
SKU:
SJJ-M1 EX ,
Qty:
In Stock
,
Delivery time:
2-3 nädalat
44,00 €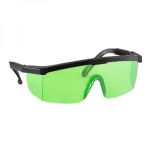 Glasses for green beam lasers.
SKU:
GL-G ,
Qty:
In Stock
9,00 €