Measuring wheel DigiRoller Plus III
SKU:
3112
Unit:
pc
Qty:
In Stock
Price:
270,00 €
price inc. tax
324,00 €
The DigiRoller Plus III - Dependable, Durable and Accurate

The DigiRoller Plus III can measure lengths, widths and heights, and it can calculate areas, volumes, perimeters and more in U.S. or metric units. The Digi puts the controls right in the palm of your hand - no stooping, bending or squinting.

The DigiRoller Plus III is built to last. It has a reinforced metal shaft and the LCD has an anti-shock mount.
Measuring Range: 0 to 9,999,999 (yards, meters)
Wheel Accuracy: 99.5%
Internal Math Accuracy: 12 digits
Length: Extended - 40.5" (103 cm)
Folded - 21.5" (55 cm)
Wheel Size: 12.5" diameter (32 cm)
39.3" circumference (1 m)
Maximum Speed: 12 mph (19 km/h)
Display Capacity: 7 digits (9,999,999)
Weight: 4.1 lbs (1.9 kg)
Power: One 9V battery
Operating Temperature: 14°F to 104°F (-10°C to 40°C)
Storage Temperature: -4°F to 140°F (-20°C to 60°C)

Includes:
Handy backpack/carrying case
One 9V battery
Reflective tape for safety
Two-year warranty
Wrist lanyard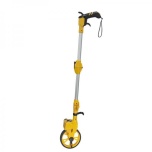 Measuring wheels (small) - accurate devices for road measurements that are fast to use
Rugged structure made of aluminium and plastic
Stable kickstand
Convenient-to-use brake
Folding aluminium rod with a handle design that fits precisely any hand
Yellow - and thus easily noticeable - wheel made of plastic
An accurate and legible counter placed above the wheel / large and clear digits
Easily resets numbers to "0" with just one move of the lever
Subtraction when in reverse motion
Measures distance up to 99.999,9 m
Durable storage bag (protects the device during its transport)
80,00 €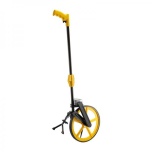 Measure straight lines, curves and irregular shapes, equipped with a mechanical counter calculates the distance while moving forward, subtracts in reverse motion, reset level (hands-free).
M100 - orange circle, 5 spokes with a strong plastic pistol grip, collapsible rod, carrying bag:
Set Includes:
Measuring Wheel M100
transport bag
carton box
SKU:
M100 ,
Qty:
In Stock
80,00 €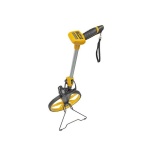 – vastupidavad alumiinium ja plastik osad
– digitaalne kahesuunaline loendur
– ratta diameeter: 159 mm
– kogupikkus: 0,98 m, kokkupanduna: 0,52 m
– mõõdetav distants: min. 0,1 m ja max. 9999,9 m
– käsipidur
– tugijalg
– patarei: 9V 6F22
– värvus: kollane
– komplektis kandekott
Kaal: 2,5 kg
SKU:
M100DIGITAL ,
Qty:
In Stock
,
Delivery time:
1 nädal
150,00 €