Sticker on a plastic sign - "Road works"
SKU:
34216913322
Qty:
In Stock
Price:
From 12,00 €
price inc. tax
14,40 €
"Road works" warns of work being done on, next to, under or on the road. In addition to the people working on the road, there may be road construction vehicles and other obstacles, unevenness of the roadway, loose stones and the like.

Size: 360*360*360mm

Choice of RA1 and Ra2 light class stickers (RA2 is a sticker with 3x better reflectivity than RA1. When making a choice, we recommend considering how far you want this sign to be visible).
Suitable for sticking on a plastic sign.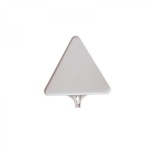 Plastic sign for the flexible post.
- size: 440x440x440 mm
- weight: 0,36 kg
SKU:
13110K ,
Qty:
In Stock
,
Delivery time:
2 nädalat
16,50 €