Wet Wipe Mini Dispenser
SKU:
WWSMINI
Unit:
pc
Qty:
In Stock
Price:
84,50 €
price inc. tax
86,19 €
Free Standing Wipe Station with Integrated Bin. Available in a wide range of colours and finishes to suit your interior. An excellent customer care product with great added value for your customer at very little cost. The Wipe dispenser can be used to hold a range of wipes such as degreasing wipes, antibacterial wet wipes and dry wipes. Suitable For: Supermarkets, Forecourts, Gyms, Schools, Factory Production, Catering, Offices etc.

Holds up to 500 wet wipes
Portable or wall mounted
Highly effective on hands & equipment killing 99.9% of germs and bacteria.
Continues to provide surface protection for up to 30 days
Soft on hands and does not damage fabrics or equipment
Single use, hygienic wipe, no more spray bottles or shared cloths
The Mini wipe dispenser keeps the wipes moist
Encourages one wipe at a time to avoid waste
Can be made in your corporate colours to match brand image.
Tidy, out of the way and wipes are always on hand
The Mini Wet Wipe dispenser can be used to hold a range of wipes such as degreasing wipes
Weighted Base
Unique patented design

Weight: 1kg
27cm x 19cm diamater.
Rubber base weight for stability.
Wall Bracket: Stainless Steel
Material: Polyethylene
Video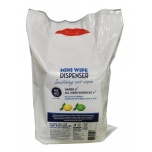 Sheet Size: 150 x 200mm
Wipe specification: 3GSM Blue wetlaid substrate sheet.
Hand & Handle wet disinfectant wipes are effective against gram positive and gram negative bacteria, viruses and fungi including H1N1, Salmonella, Listeria, E-Coli, Staphloccus Aureas, C-Difficile, MRSA, Candida Albicans, Aspergillus Niger.
Tested and approved to European norms EN1276 bactericidal efficacy and EN1650 fungicidal activity.
Rolls Supplied in case of 6 rolls of 500 sheets
SKU:
MINIWIPES ,
Qty:
In Stock